Courses Taught:
8th Grade Math
8th Grade Social Studies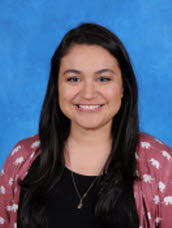 Supplies for
Math & GA History:
To be updated in late July

Syllabus
2020-2021:
8th Grade Math: To be updated late July
GA History: To be updated late July
My name is Betzy McDermitt. I have taught at Feagin Mill since 2012 and am in my 10th year of teaching. This school year will be my third year working in only 8th grade.
BACKGROUND
I was born in Torrance, California and raised in Warner Robins, Georgia. I am a product of Houston County School System, graduating from Northside High School in 2008. I received my BS in education in 2012 (middle grades education, Math and Social Studies), Master's in Instructional Technology (GC&SU) 2016, and Specialist in Teacher Leadership (VSU) 2018.
HOBBIES
I love to visit new places, enjoy reading, listening to podcasts, watching YouTube how to videos, art projects, learning about different languages/cultures and cooking!
TEACHING
This year I will be working with students in the following courses: 8th grade math and 8th grade GA studies.
I look forward working with students and parents as students prepare for high school. Any questions, feel free to send an email!
Gracias,
B. McDermitt